Virtual Cocktail Masterclass Online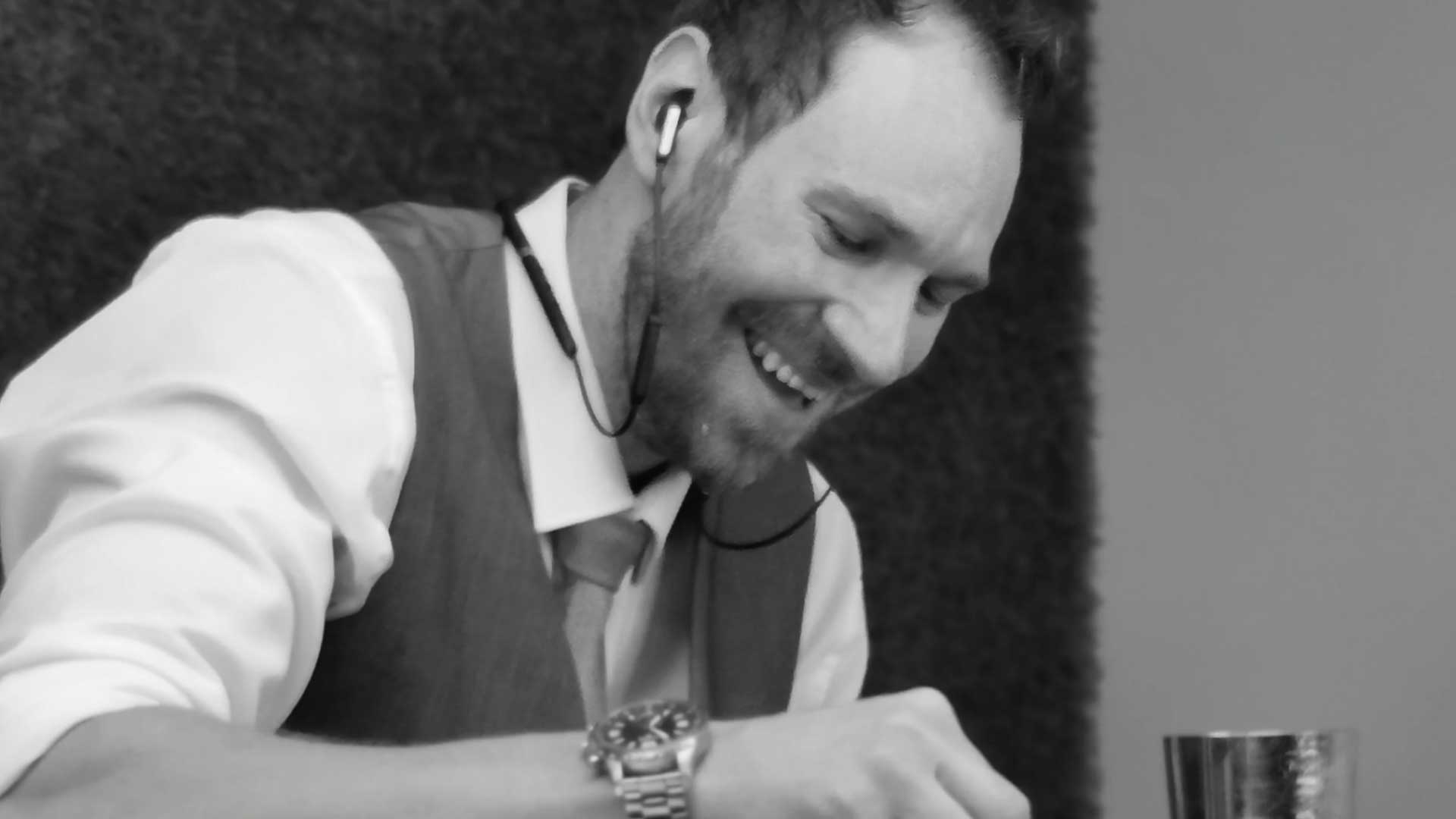 Our aim for this page is to give you a good overview of online cocktail masterclasses, our personal journey and what you need to look out for when booking. Happy Reading!
How we started virtual cocktail masterclasses
I'm going to take you back to our team meeting as this all started, with the multiple cancellations that came in and the news reports from China and what was going to happen with the world. We decided to pull a product off the shelf that we had developed but not fully launched yet called Cocktail Masterclass In A Box. We would send everything you needed for a full-blown interactive cocktail masterclass right to you. You would be guided through the cocktails by a video or a virtual bartender.
Little did we know 18 months ago when we had built this product, that it was perfectly positioned for this unprecedented, unusual, world changing situation. With the lockdown in full effect, we had a huge burst of retail sales, where people were stuck at home on their own or in couples or even with the family. Our model was delivering a cocktail masterclass live on Facebook and people would join us with the boxes that they purchased.
On the 13th of June we delivered our 13th and final online cocktail masterclass of that format, using Facebook Live as the platform. It was really, really cool to work through the different menus that we did. We had British Summertime, Coffee and Cake vs Afternoon Tea, the Latino menu, Classics and Classics Revisited, Tiki menu. A really cool selection and we were really excited to be delivering this to people across the nation.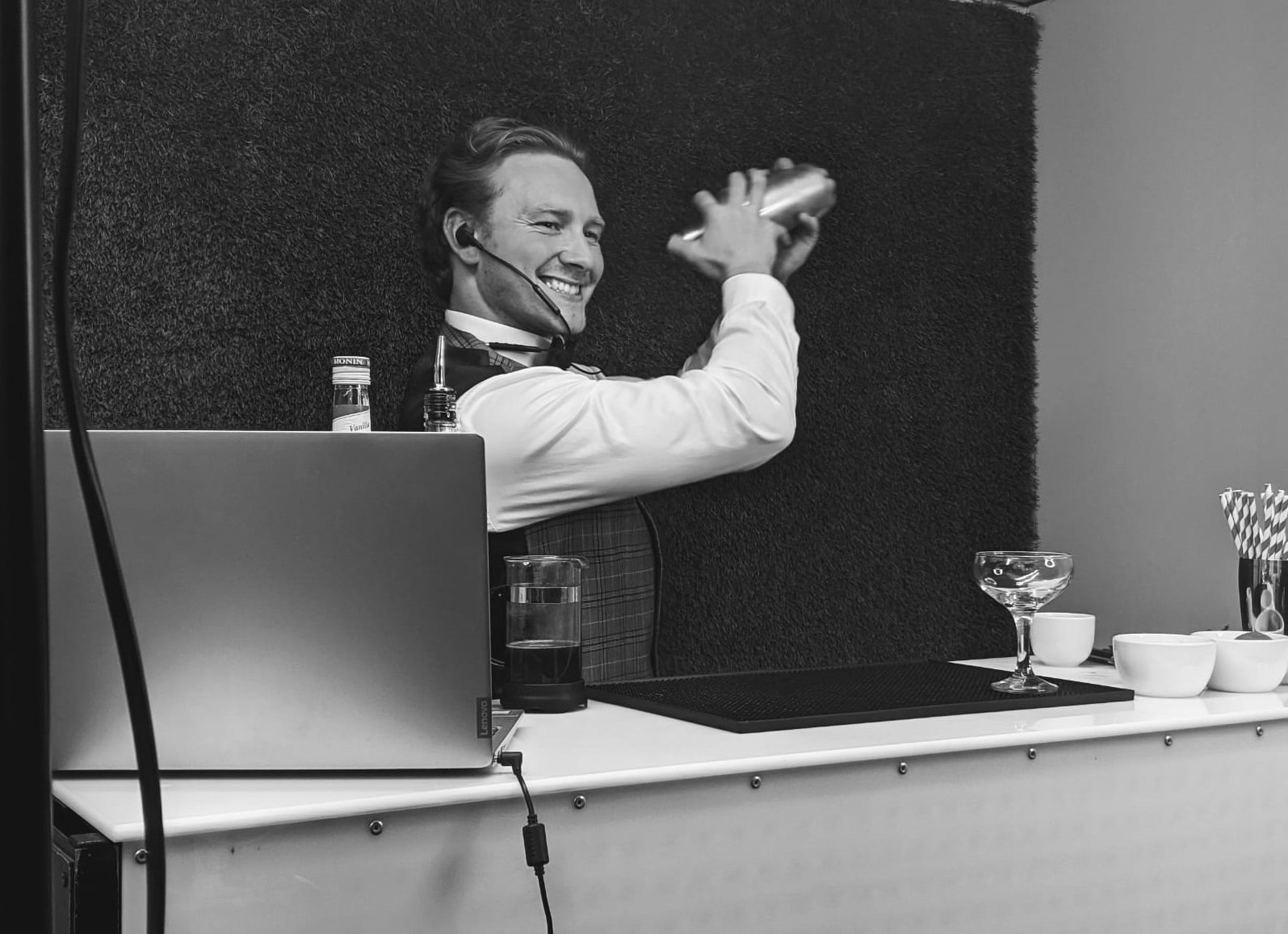 Alongside the Facebook live events there are the private and corporate virtual masterclasses which we have been running since back in March. A new phrase 'death by Zoom quiz' is common now, people are sick of them. So we offer a solution that engages the teams, increases interaction and attendance to online events and gatherings. It's a fun interactive virtual cocktail masterclass with everything delivered to the door. Even ss the lockdown regulations are easing and bars are reopening, we are still seeing no new corporate in-person events being planned. So we still busy with our corporate friendly cocktail masterclass where we deliver everything people need to their doors, including the cocktail kit, all the ingredients, and we deliver virtual cocktail masterclasses for groups from five to 800. This is on live or video, but it's all very exciting.
Planning the best online cocktail masterclass
When looking for the best options for booking and organising an online cocktail masterclass for a team or group are a few factors that you need to look at:
Is the virtual only option best for you?
In this option, you would receive a shopping list and every group member is responsible for sourcing their own ingredients, kitchen utensils or cocktail equipment, spirit, ice, fruit, then the team will log in at the same time for the masterclass. This works well if you have people across the world. We've had many successes with this style of virtual event, however, a hybrid approach may work best, meaning people in the UK can receive a box, but people from outside the UK receive a shopping list and they source their ingredients, equipment, and glassware.
Is there a budget to really impress the group?
You can go for the full cocktail masterclass in a box online option, where you receive everything you need from the ingredients, the fruit, spirits, liqueur, glassware and even ice. There's also reduced shipped box options that don't include absolutely everything. So the participants would need to source their own ice. However, they would receive a nice box with many items in it.
How do you choose the right virtual masterclass company for you?
It's key to assess the company that you're going to work with. Make sure they are comfortable on camera and they have got a lot of experience delivering virtual masterclasses. These are different to live, in person cocktail masterclasses, and they take a different level of skill to be able to engage and bring energy when communicating through a screen. We're proud to say at Mix and Twist we've had over 60 online virtual masterclasses so far, with multiple new ones every week, you can see us in action on Facebook. We've also got a team of studio bartenders and a studio setup of the office, which is pretty cool.
Another thing that you need to ensure is the video quality, sound quality, and internet connection of the company delivering the masterclass. For example, our internet speed is now three times faster than super fast fiber optic broadband and we use a high quality microphone and high pixel video recorder camera.
Overview
Online cocktail masterclasses have two main components and you need to consider both fully before making your decision. There is the box element. You need to decide how the budget fits for what goes into the box and how much you would like for you to provide for the participants, but also how much you are happy for them to source themselves. Example, just a bag of ice. That's fine. Or most of the ingredients.
The second element is the actual delivery of the masterclass. This is key to make sure that you don't have an awkward bartender on screen running a flat masterclass. There needs to be high energy, high interaction, high games, levels, and fun running through.