9 Favourite Cocktails for Work Parties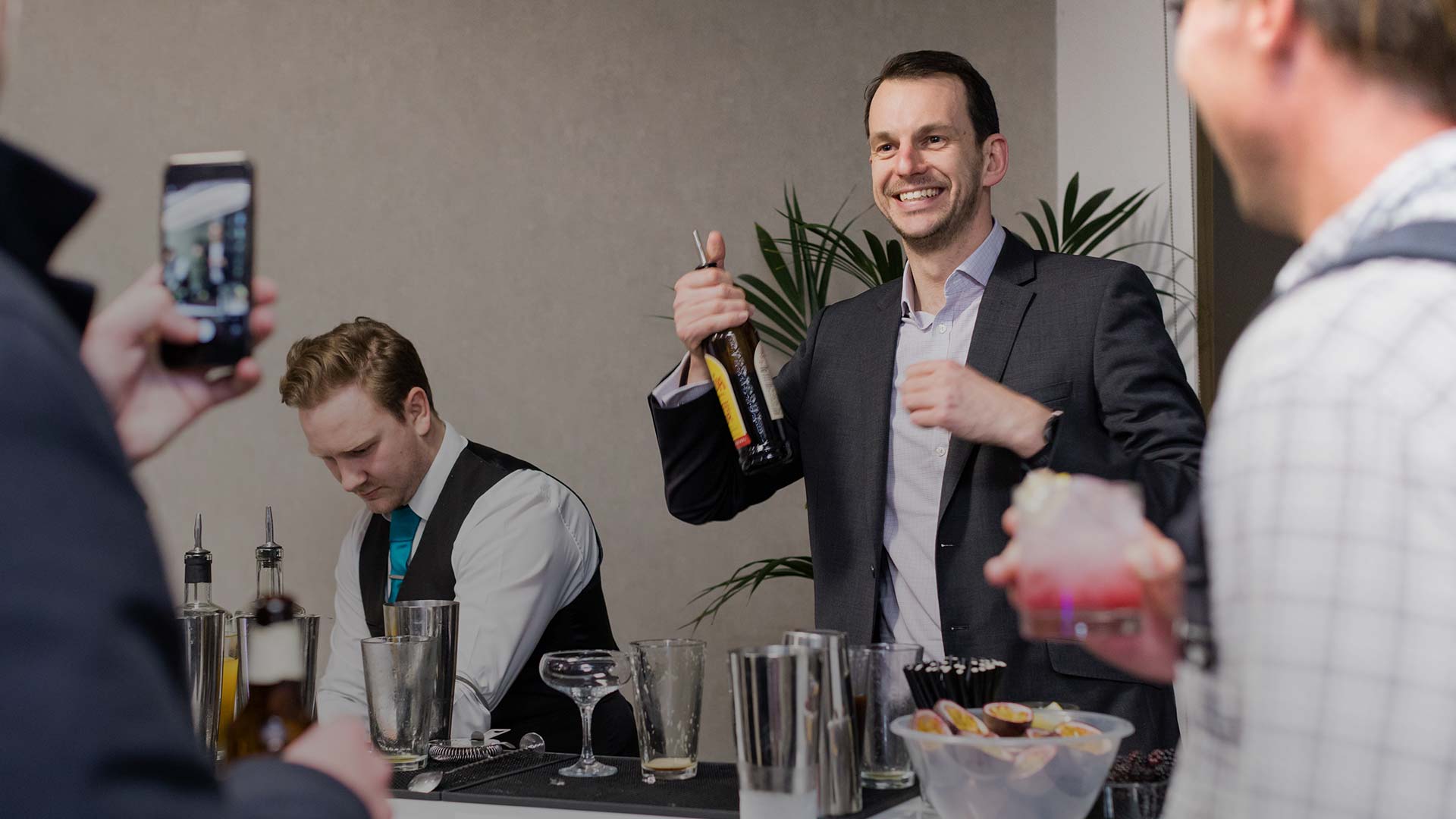 Whether you're planning your annual Christmas work party, yearly celebration of the company's success, or you've got an exciting new launch or similar, a signature cocktail (or two) is sure to go down a treat, no matter the occasion. Give back to your team and ensure your party is a huge success, with these nine favourite cocktails for work parties…
1. Espresso Martini
Especially popular if your work party is on a weekday evening, an Espresso Martini is sure to give your guests the boost they need at the start of the night. Using freshly brewed espresso, coffee liqueur and vodka, this caffeinated cocktail is always a hit.
2. Cosmopolitan
This classic cocktail offers the perfect balance between sweet and sour. Easy to adapt to suit your theme, the Cosmo can be tweaked with your own unique and playful twist. Traditionally made with lemon vodka, triple sec and cranberry juice, this is a real crowd pleaser.
3. Sloe Gin Fizz
A great option if you're hosting a Christmas work party, a Slow Gin Fizz is a festive cocktail that would suit all tastes. Made using sloe gin, sugar syrup and lemon juice, and topped up with sparkling water, this looks really beautiful in the glass and is often finished with fresh blackberries.
4. Negroni
Timeless and popular with many, the Negroni is the perfect option if you want to serve a gin cocktail. This classic Italian cocktail contains Campari, Gin and Sweet Vermouth, and is traditionally finished with an orange peel twist, which adds a lovely festive element too.
5. Old Fashioned
This whisky cocktail has a strong flavour and is often one of those love or hate options. A crowd pleaser for those whisky drinkers, the Old Fashioned is made using Whisky, Angostura Bitters, sugar and lemon or orange peel to finish.
6. Mojito
This refreshing cocktail is great for a summer party. Served over crushed ice, the Mojito is equal parts sweet and citrus and is made with white rum, sugar, lime and mint, muddled to release the flavours and topped up with soda water.
7. Aperol Spritz
Known as 'sunshine in a glass' this is another great option for a spring/summer party. This Italian cocktail has just three ingredients, is super light and refreshing, and not too strong either.
8. Alcohol-free Passion Fruit Martini
Who doesn't love a martini? It's always a good idea to serve an alcohol-free option, and it's a nice gesture to those that aren't drinking so that they don't miss out on a big part of the experience. A Passion Fruit Martini Mocktail looks and tastes so close to the real deal, making it a great choice.
9. Bramble
Both aesthetically pleasing and delicious, Bramble will look particularly striking in photos and will appeal to most tastes. Including gin, lemon juice and sugar syrup, crème de mure adds the beautiful colour, and a blackberry or two is the perfect finishing touch.
Make hosting your work party easy, with our fully equipped and staffed Mobile Cocktail Bar. We can work with you to create the perfect cocktail menu, for a memorable and successful work party that will set the bar for the rest.