Corporate Christmas Parties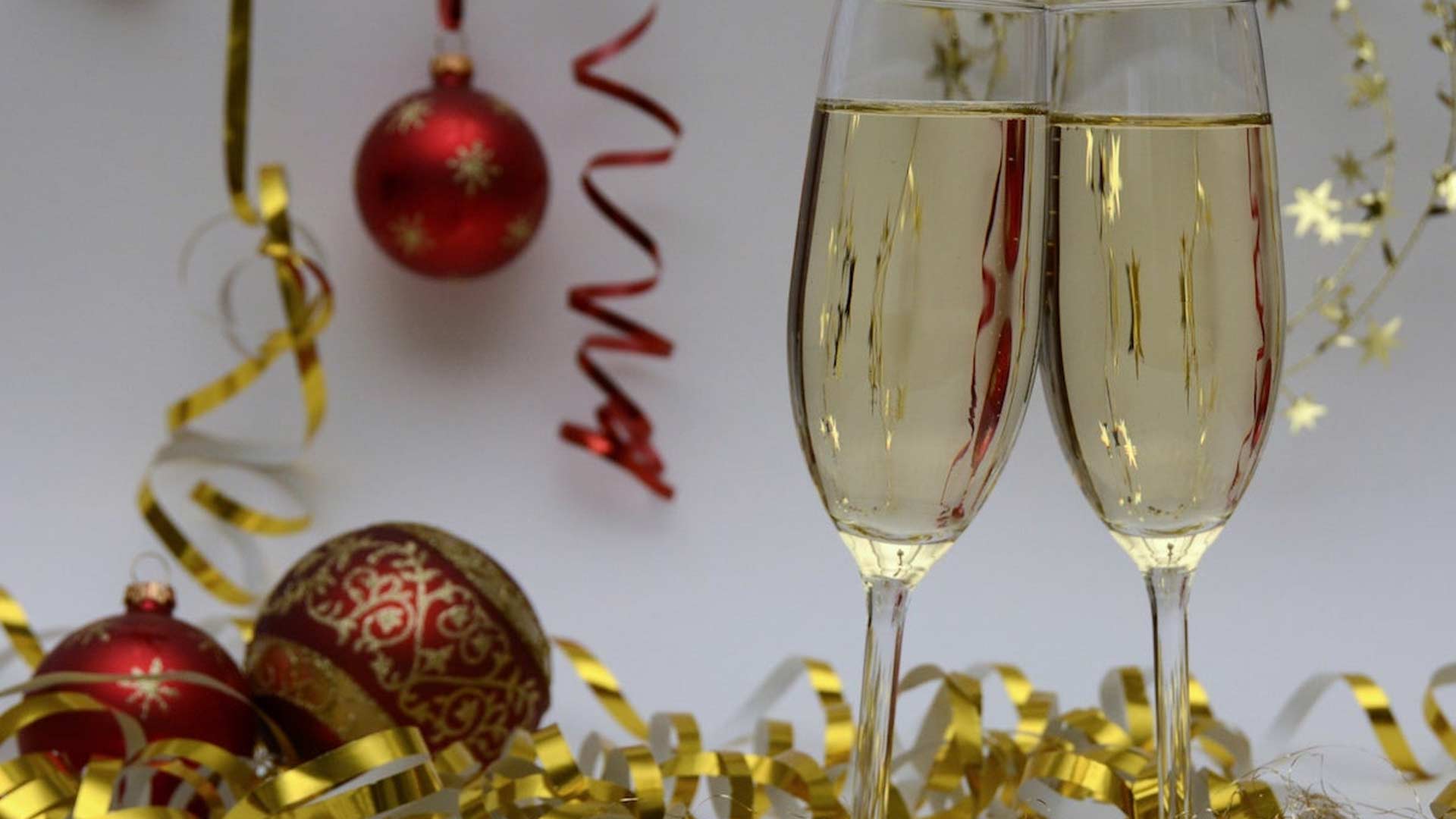 Introduction to Corporate Christmas Parties
Christmas parties are a huge event in the corporate calendar.
So much so that some companies actually start planning them in January, pretty much as soon as that year's party is finished.
And can anyone be that surprised?
Corporate Christmas events are a chance for you to finally let your hair down and enjoy some festive fun with your colleagues.
However, corporate Christmas events can be iconic for all of the wrong reasons.
The budget is often too low, the venue always has a hideous carpet, and more often than not the only reason we bother turning up to them is because we're guaranteed a couple of free drinks from any event bars that might be there.
But that doesn't have to be the case.
Corporate Christmas events are exciting, festive and a significant point on the corporate calendar.
So here's how to actually make it good for once, allowing you to win some brownie points with both your coworkers and your boss.
With so many people looking forward to this event then it's important that everything is planned to perfection, from the venue and theme to your chosen event bars.
We've put together some top tips for throwing the perfect office Christmas party.
Figuring Out A Budget for Corporate Christmas Events
Let's get the boring bit out of the way, shall we?
Working out your budget should always be your first step in organising corporate Christmas events as it allows you to determine what you can splurge a bit more money on and where you need to be a bit more conservative.
Spending the most on your venue will guarantee an amazing event, and then you can spend accordingly with the remainder of your budget.
This will also help you decide what kind of bar you'll be having.
Whether you work with the venue's own bar service or hire a mobile bar, you might spring for one of the following options:
Open bar: Guests drink for free and the tab comes out of the company budget at the end of the night
Limited open bar: Guests drink for free until the bar hits a pre-agreed sum, after which they will need to pay for their drinks.
Paid bar: Guests pay for all drinks themselves
Mobile bar services offer packages to help you save on cost while offering greater flexibility, and can be a great option for companies of all sizes.
The remainder of the budget can then be distributed between decorating the venue in your chosen theme, catering for your staff and hiring entertainment!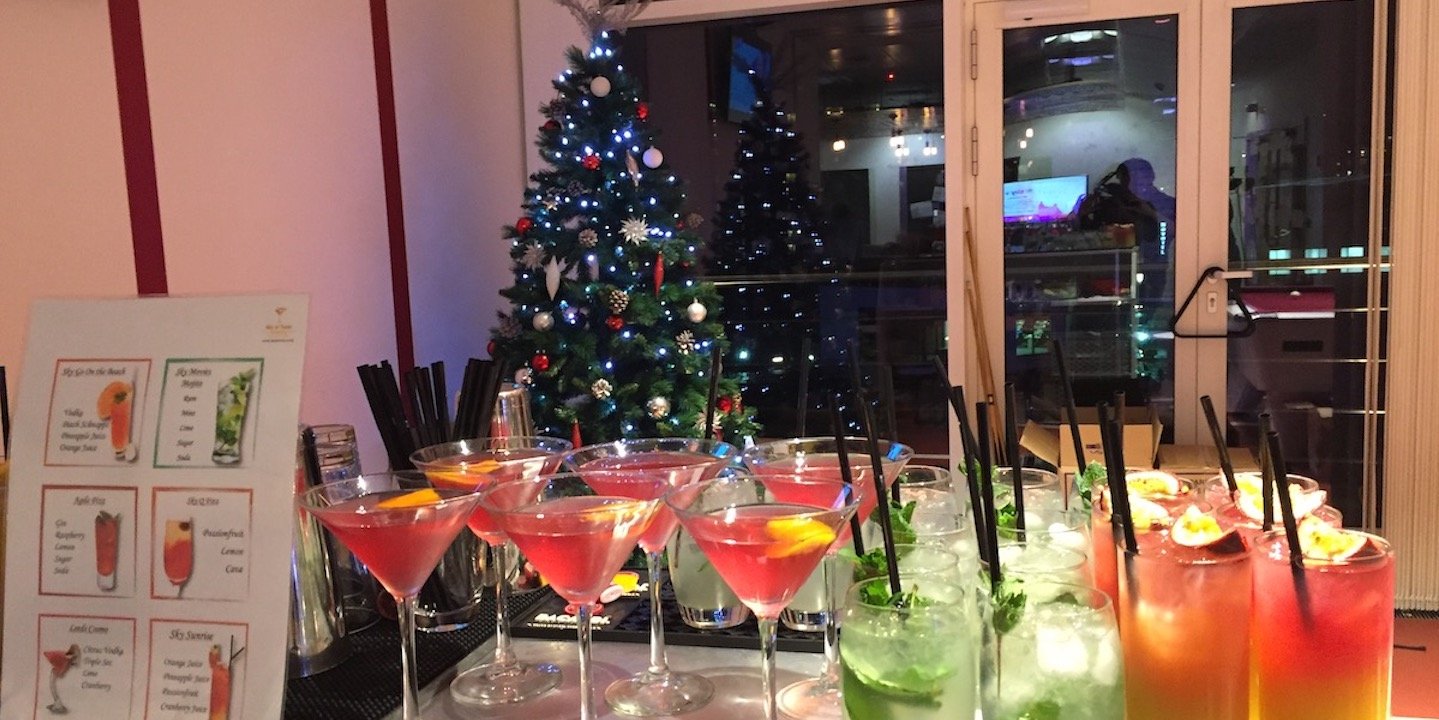 Corporate Christmas Event Venues
The venue is the backdrop to your event and this should be the first thing you look for when starting to plan your Christmas party.
Depending on your budget and what kind of company you are, you might decide to go all out and hire a venue that provides in-house party planning to make sure everything goes as smoothly as possible.
Alternatively, there's nothing wrong with holding the party at your business premises so long as you jazz the place up a bit!
Hiring a DJ and a mobile cocktail bar can be a great way of transforming the location from a place of work to a legitimate venue.
A lot of people will opt for something in between, hiring a dedicated space for their corporate Christmas event while taking charge of the planning so they can retain control of the budget.
One of the most important things in choosing your venue—aside from the budget—is location.
Whether you're based in a city centre or a small town, you will have employees dotted around throughout a 20-or-so mile radius, and the location has to be convenient for as many of them as possible.
The safest option is to choose somewhere close to your business premises.
Bar Service for Corporate Christmas Events
For corporate Christmas events, drinks should be high on the agenda.
Everyone likes to raise a drink in the festive spirit and so a well-stocked bar, containing Prosecco and mulled wine, is a must!
If you're hosting in-house or choosing a venue-only approach, you have plenty of choice in terms of the alcohol side of things.
Your venue may include bar services in the hiring price, or they may ask you to organise this for yourself.
You can ask people to provide their own drinks, but it's nice to lay on at least a few freebies to get people into the party mood.
Bringing in a mobile cocktail bar service adds a personal touch to proceedings, with the potential for a bar featuring your company logo and signature drinks to match your theme!
Some of our favourite festive cocktails include:

Winter Wine: Mention Christmas drinks and everyone thinks of mulled wine, so match your

favourite

red wine with Cointreau liqueur, satsumas, cinnamon

and

cloves and serve it hot or cold!
Cranberry Punch:

Christmas isn't complete without cranberry sauce on your turkey, so extend the theme into your drinks too. Mix cranberry rum, bitters

and

Prosecco or cava with the traditional

favourites

of cinnamon and cloves, and serve over ice.
Eggnog Cocktail: Eggnog is another classic Christmas drink, and this indulgent cocktail is a real treat. Beat egg yolks with sugar, stir in milk, double cream, rum and bourbon, fold in beaten egg whites and garnish with grated nutmeg.
Christmas Champagne:

Many people enjoy an early morning 'bucks fizz' on Christmas Day. It makes a great addition to your cocktail menu if you replace most of the orange juice with some orange bitters instead.
Candy Cane:

This vodka-based cocktail brings in the festive

flavours

of peppermint schnapps and white crème de cacao, lifted with a little grenadine and a slug of soda water, and finished with a candy cane decoration – a seasonal sensation!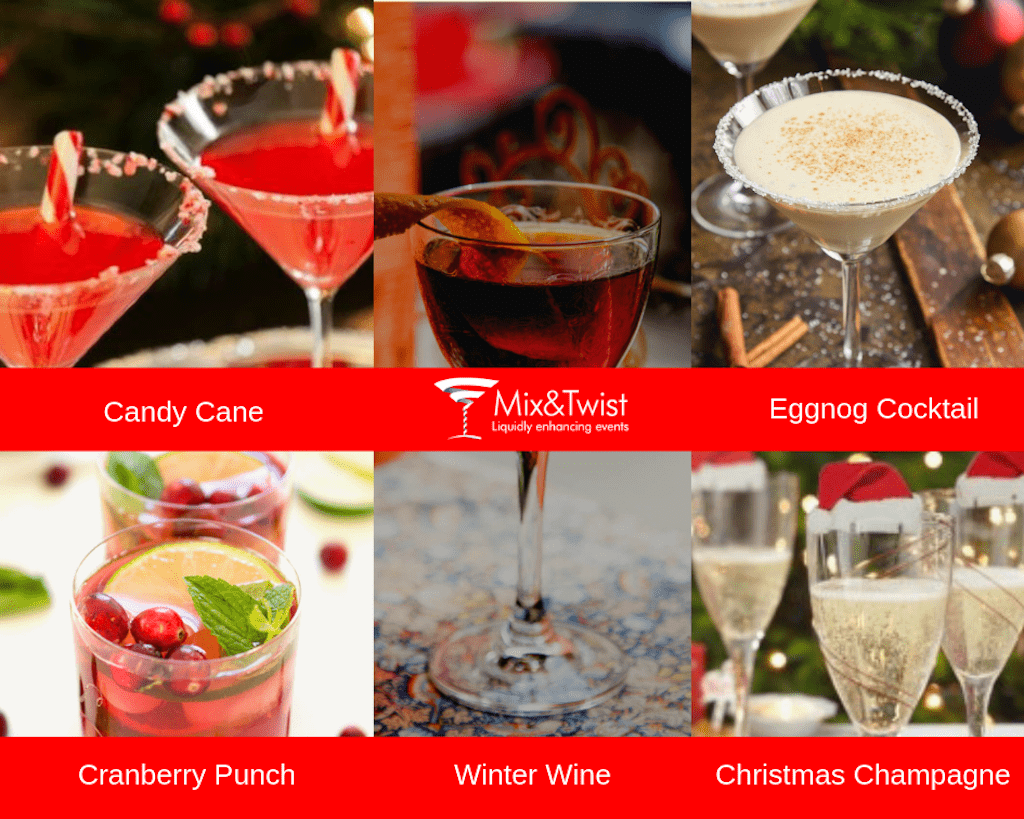 Food and Catering for Corporate Christmas Events
We all know that food can make or break a party.
It's not uncommon for corporate Christmas events to be held straight after work on a Wednesday evening, meaning that no-one will have eaten dinner.
It's therefore not enough to just put out a few canapés and hope that your colleagues don't have an appetite that night—you need some real food.
There are all manner of catering options to explore, and there's no need to stick to Christmas classics like mini roast dinners.
Depending on how formal you're feeling, you have the option of hosting a buffet or a sit-down meal with a set menu.
At corporate Christmas events nowadays, anything goes—from Mexican food to hot dogs!
If you're looking to go the traditional route, opting for a proper rotisserie where guests receive hand-carved sandwiches to fill with toppings of their choice is a more sophisticated way of spinning the Christmas lunch concept.
Don't forget to consider what drinks you're serving at your party.
No one wants to be washing down roast chicken sandwiches with Cosmopolitans.
By working with a mobile bar hire company, you have greater flexibility to hand-select your drinks menu to fit the catering!
It's also absolutely crucial to check whether any attendees have dietary requirements so no one's left with an empty plate.
Create The Ultimate Christmas Experience
What a great year, the Christmas buzz is here and it's party time!
Organising an event can be really fun and the buzz from executing a successful one is exhilarating!
However, you need to be mindful of the stress factors of trying to please everyone, while keeping costs in order, managing and pulling so many elements together that you have little control over, plus everything else on your plate.
Impress the guests with our unique brand of wow factor and fun, let us take care of the bar and bartenders serving drinks with entertainment.
Watch and enjoy the evening with the crowds swarming the cocktail bar, cocktails in hand and smiles on faces.
Corporate Christmas Events Themes
Having a clear theme can help structure your event and let attendees know what to expect.
It's best to stress whether it's a formal occasion or a relaxed get-together so everyone is confident on dress-code, and the anticipation can build in advance.
Some themes that are always popular around Christmas time are:

Great Gatsby:

The glitz and glamour of the 1920s is perfect for the festive season, and is surprisingly easy to execute from both a party planning and a costume perspective
Masquerade Ball:

Another oh-so-glamourous yet low-budget affair is a masquerade ball. All it takes is a nice outfit and a pretty mask from the local party shop!
Christmas Jumper:

Yes, it's obvious, but it's also a classic. There's nothing better than an ugly Christmas jumper, and this theme lends itself nicely to less formal events.
Murder Mystery:

Who needs the EastEnders Christmas special when you can host your very own drama? Murder mysteries are an all-in-one theme, entertainment and costume package!
Black Tie:

If your staff are prepared to get swanky for your corporate Christmas event, black tie parties are a once-a-year opportunity to put your best foot forward and step out in style.

If you've planned a party before, you'll also recognise the importance of a strong colour scheme.
This can help string your whole decor together, and you can even theme it around your company branding.
Should you opt for a mobile bar hire service at your corporate Christmas event, your bartender will be able to create drinks that go with your chosen theme or colour scheme, making for that all-important Instagram opportunity!
Entertainment For Corporate Christmas Events
You might want your office party to just be about having a chat and a giggle, but it's definitely worth considering some kind of entertainment to keep the party buzzing.
You can hire a DJ or a live band, hold a light-hearted awards ceremony, host a Christmas quiz with prizes for the winners or even play some silly party games.
But entertainment doesn't have to involve a stage and a microphone; sometimes it's just about coming up with ideas that will keep your staff interacting and having fun all night long.
A 'Secret Santa' is a great way to get people sharing while ensuring everyone gets a present without breaking the bank.
In the run-up to the party, you could also hold a competition to design a drink that can be the main event on the menu of your mobile cocktail bar!
Getting all of these things right will ensure that all of your colleagues have an amazing time at the work Christmas party, and your boss will be very impressed with you for pulling off a party that people just won't stop talking about.
Just remember to remind them of exactly how good it was when it comes to your annual review!
Speak with an Expert Mixologist
Creating the ultimate mobile bar experience for your corporate, private party or wedding event is just a phone call away.
Our expert mixologists listen to your goals, dreams and help you create the ultimate event.
Take advantage of a no-obligation consultation and click the button below to get started.