A Vintage (Mix And) Twis​t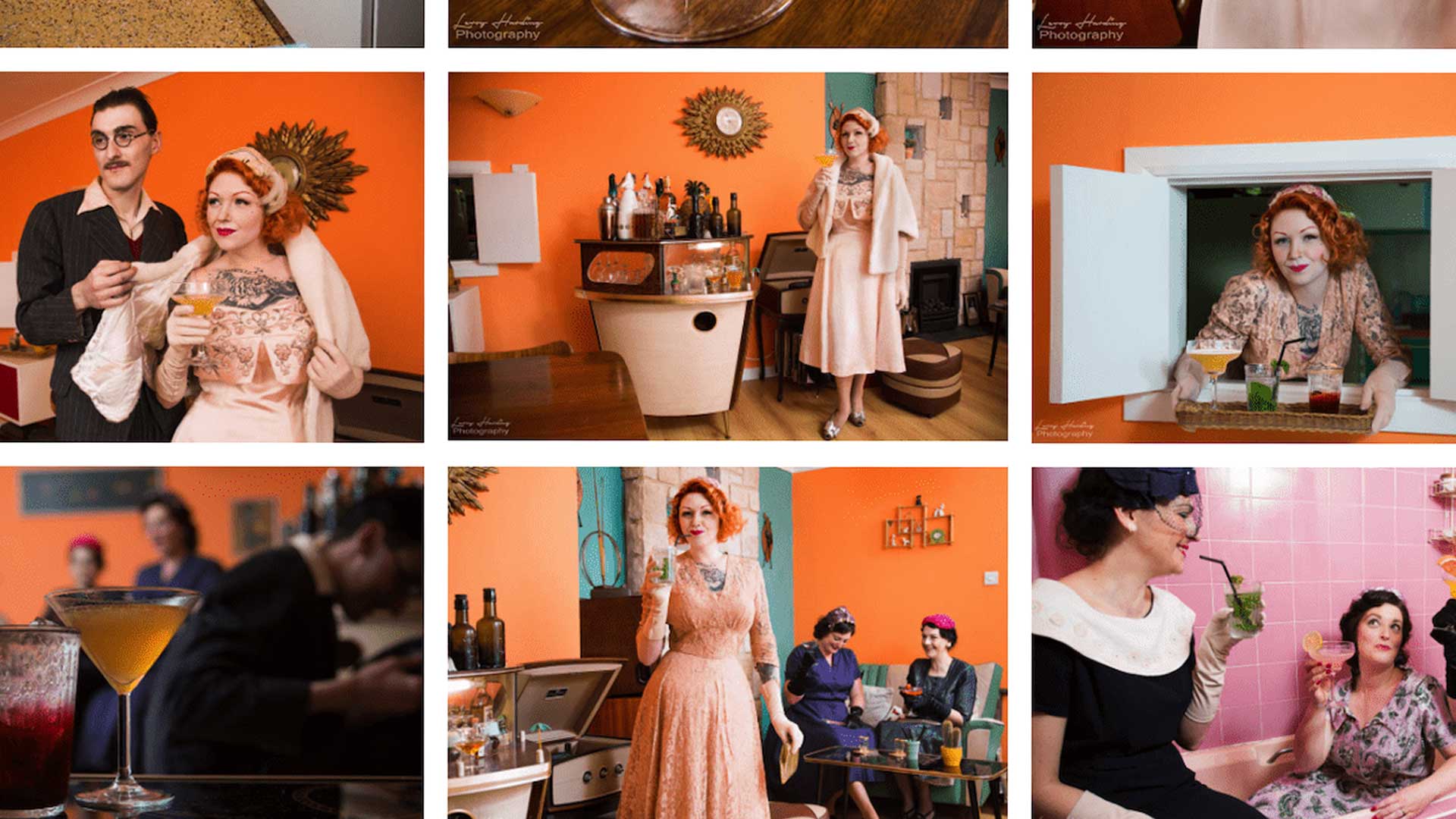 Recently we had the pleasure of collaborating with a fabulous team of creatives on a 1950s Cocktail Party photoshoot, masterfully styled by Jeanie Strain at Atomic Era Photography Studio and beautifully captured by Photographer Leroy Harding. As a mobile bar hire business, we love getting involved with industry events that can inspire everyone to get creative with themes and cocktail choices for their own wedding or event.
The 1950s was a decade full of glamour, parties and hard liquor, and their solid focus on fun and drinks continues to inspire the great parties of today. The hosts of these soirees may not have had the genius mobile cocktail bars that we have today, from which to mix a Mojito or serve up a Sidecar, but they made the most of the drinks they had to create some classics that are still popular today. Cocktails so familiar to us that they feel more like friends than orders at a bar. Tom Collins, Shirley Temple, and the rest of the gang.

Advice On Throwing A Party
Advice in those days on throwing a party, from the likes of Good Housekeeping's Perfect Parties guide, put an emphasis on convenience. "Making things easy makes things fast and fun", which I think we can all agree is still a party priority to this day. And what better way to make things easy for your own event, whatever the theme, than to hire a bartender or use a mobile bar hire service to take care of your drinks so that you and your friends can simply dance the night away. Whilst the drinks still come thick and fast, of course!
The best thing about mobile cocktail bars is that they can be used anywhere. You don't have to select a venue with a bar that is already in place; we can set up a bar almost anywhere. All that's left for you to do is select drinks off our cocktail menu that complement your event. At this fabulous vintage cocktail party shoot we used a cool boat bar, courtesy of Atomic Era Photography Studio to display drinks and serve up some colourful cocktails. And as with any legendary party from the Mad Men era, we certainly served up a variety for the models to enjoy.
Theme Your Cocktails To Your Party
Gin was huge in the 1950s, making this the perfect opportunity to serve up some Gin cocktails from our mobile cocktail bar menu. We opted for an English Mojito (served with Gin instead of the traditional rum), Brambles – made with blackberry liqueur, lemon and sugar – and a Peach and Grapefruit Sling. Oh, and when you hire a bartender and they manage to perfectly match your cocktail to the colour of the bathroom, like you see here, you know they're good! If you're a gin lover then check out this helpful guide about the best gins to buy and which tonics to pair them with.
The 1950s were a very colourful time, and it's wonderful to see our cocktails have been captured in all of their brightly coloured glory by fabulous photographer
Leroy Harding
, matching the kitsch décor, and vintage dresses provided by
Elegant Era Vintage
. This was a truly enjoyable day, and we'd love to create the same sense of fun, excitement and cocktail selection for your own event or party.
The Party Scene
Your birthday party is just asking for the addition of one of our mobile cocktail bars. Chat with your friends and dance the night away with your favourite cocktail in hand. With us, everything will be taken care of and you can enjoy the one night that's all about you.
If hands-on events are more to your taste, we offer a great cocktail masterclass option too. Perfect for any big event, our mixology classes allow you to mix, muddle, shake and stir your very own cocktail, and the best bit is getting to taste test them after!
Download the Private Party Brochure
Speak with an Expert Mixologist
Creating the ultimate mobile bar experience for your private party event is just a phone call away.
Our expert mixologists listen to your goals, dreams and help you create the ultimate event.
Take advantage of a no-obligation consultation and click the button below to get started.