Balsamic Strawberry Bourbon Cocktail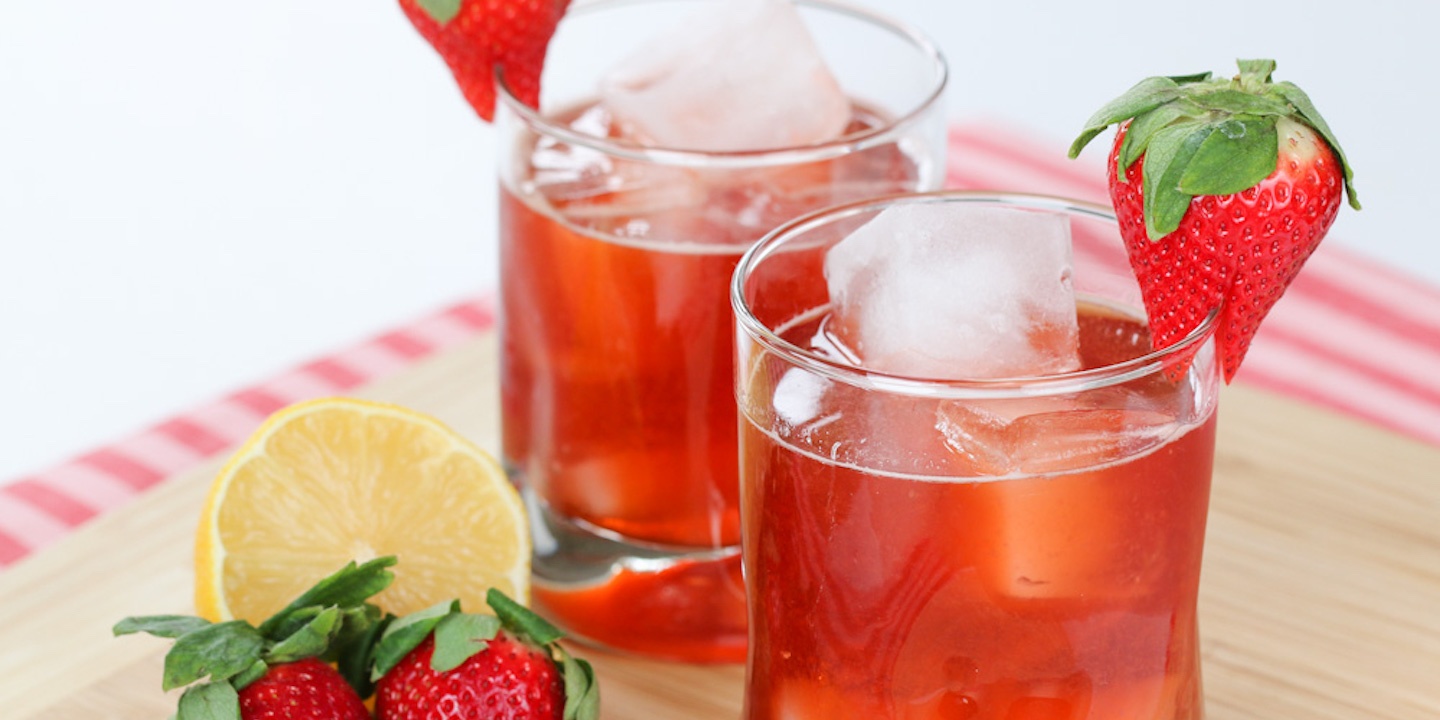 Balsamic Strawberry Bourbon Cocktail
I've got another tasty cocktail today that features strawberries and a hint of balsamic vinegar to add a bit of a savoury flavour. The strawberries are muddled with lemon peel to form a juicy but flavourful simple syrup.
Make sure that you use a high-quality bourbon for this cocktail such as the Single Barrel Bourbon from Four Roses. This bourbon is accompanied by fruity notes with a smooth, long finish. (I sound like a real bourbon connoisseur, don't I?)
Make sure that you use high-quality strawberries for this cocktail, to ensure the best flavour. You'll want them to be as fresh as possible to bring out the sweetness in the simple syrup tadalafil cost. I also suggest a small strawberry on the rim of the glass to complete the drink. Enjoy!
Balsamic Strawberry Bourbon Cocktail
Ingredients:
For the strawberry syrup:
2 cups strawberries, hulled and sliced
13 cup sugar
3-inch piece of lemon peel
For the cocktail:
4 strawberries, hulled
1 round slice of lemon, cut in half
1 ounce strawberry syrup
12 ounce balsamic vinegar
2 ounces bourbon
Garnish: additional strawberry
Instructions:
To make the syrup, combine the strawberries, sugar, and lemon rind in a saucepan. Cover and let sit for 1 hour at room temperature, stirring occasionally.
Once the sugar has dissolved and the strawberries have released their liquid, bring the mixture to a simmer over medium heat. Cook, stirring gently, until the berries are tender, about 3 minutes.
Using a slotted spoon, transfer the cooked strawberries to a pint jar. Continue simmering the syrup until it thickens to a syrupy consistency, about 2 minutes. Discard lemon peel and pour syrup over berries. Let cool to room temperature, then store in the fridge for up to 1 month.
To make the cocktail: muddle 4 fresh strawberries and the lemon in the bottom of a cocktail shaker. Fill the shaker with ice, then add the strawberry syrup, balsamic and bourbon.
Shake vigorously until well chilled, about 15 seconds. Using both the cocktail strainer and a fine mesh strainer, strain the cocktail into a glass. Garnish with a strawberry.
Tailored To Meet Your Needs
Choose one of our bespoke bar hire options and you'll have the freedom to create a truly unique experience for your guests. Our bars can be personalised with your own branding, while there's even the option to tailor your cocktail menu so that it fits with a wider theme.
You'll have a great selection of cocktails to choose from, ranging from the traditional to something a little more out-there.
Hiring a cocktail bar for your next corporate event is also a great way to get people talking and break the ice.
We have a full team of mixologists and flair bartenders on hand to entertain your guests and bring everyone together for a corporate event with a difference.
Speak with an Expert Mixologist
Creating the ultimate mobile bar experience for your corporate event is just a phone call away.
Our expert mixologists listen to your goals, dreams and help you create the ultimate event.
Take advantage of a no-obligation consultation and click the button below to get started.