Raspberry-thyme Smash Cocktail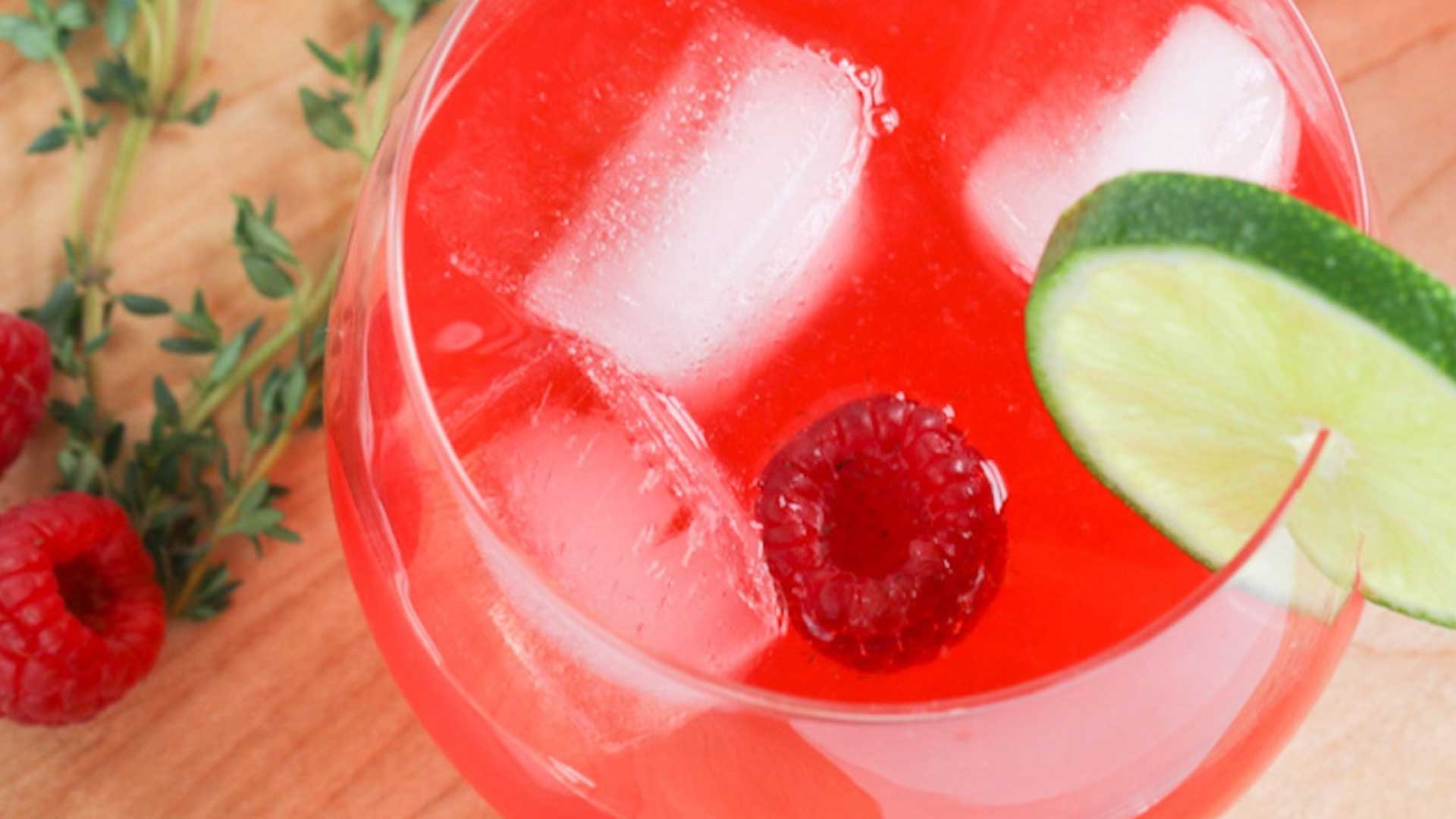 If you're looking for a delicious summer-inspired cocktail to try your hand at, might I suggest this Raspberry-Thyme Smash Cocktail made with Gin and raspberries? I love the sweet and savoury combination of flavours in this drink. And not to mention the colour is beautiful!
Even if you're not a huge fan of gin, I guarantee this cocktail is sure to delight.
Raspberry-Thyme Smash Cocktail
Ingredients
4 fresh thyme sprigs, divided

16 fresh raspberries, divided

Ice cubes

1/2 cup Gin

4 tablespoons Simple Syrup

4 tablespoons fresh lime juice

1 cup sugar

1 cup water
Method
Prepare the simple syrup by heating the sugar in the water over medium heat until the sugar dissolves. Cool before using
Remove leaves from 1 thyme sprig; place in cocktail shaker. Add 6 berries; mash with muddler or wooden spoon. Fill cocktail shaker with ice; add gin, simple syrup, and lime juice. Cover; shake vigorously until cold
Strain into highball glass filled with ice. Thread 1 raspberry onto each remaining thyme sprig; place on rim of glass
The Party Scene
Your birthday party is just asking for the addition of one of our mobile cocktail bars. Chat with your friends and dance the night away with your favourite cocktail in hand. With us, everything will be taken care of and you can enjoy the one night that's all about you.
If hands-on events are more to your taste, we offer a great cocktail masterclass option too. Perfect for any big event, our mixology classes allow you to mix, muddle, shake and stir your very own cocktail, and the best bit is getting to taste test them after!
Speak with an Expert Mixologist
Creating the ultimate mobile bar experience for your private party event is just a phone call away.
Our expert mixologists listen to your goals, dreams and help you create the ultimate event.
Take advantage of a no-obligation consultation and click the button below to get started.