Bonfire Night Cocktail Ideas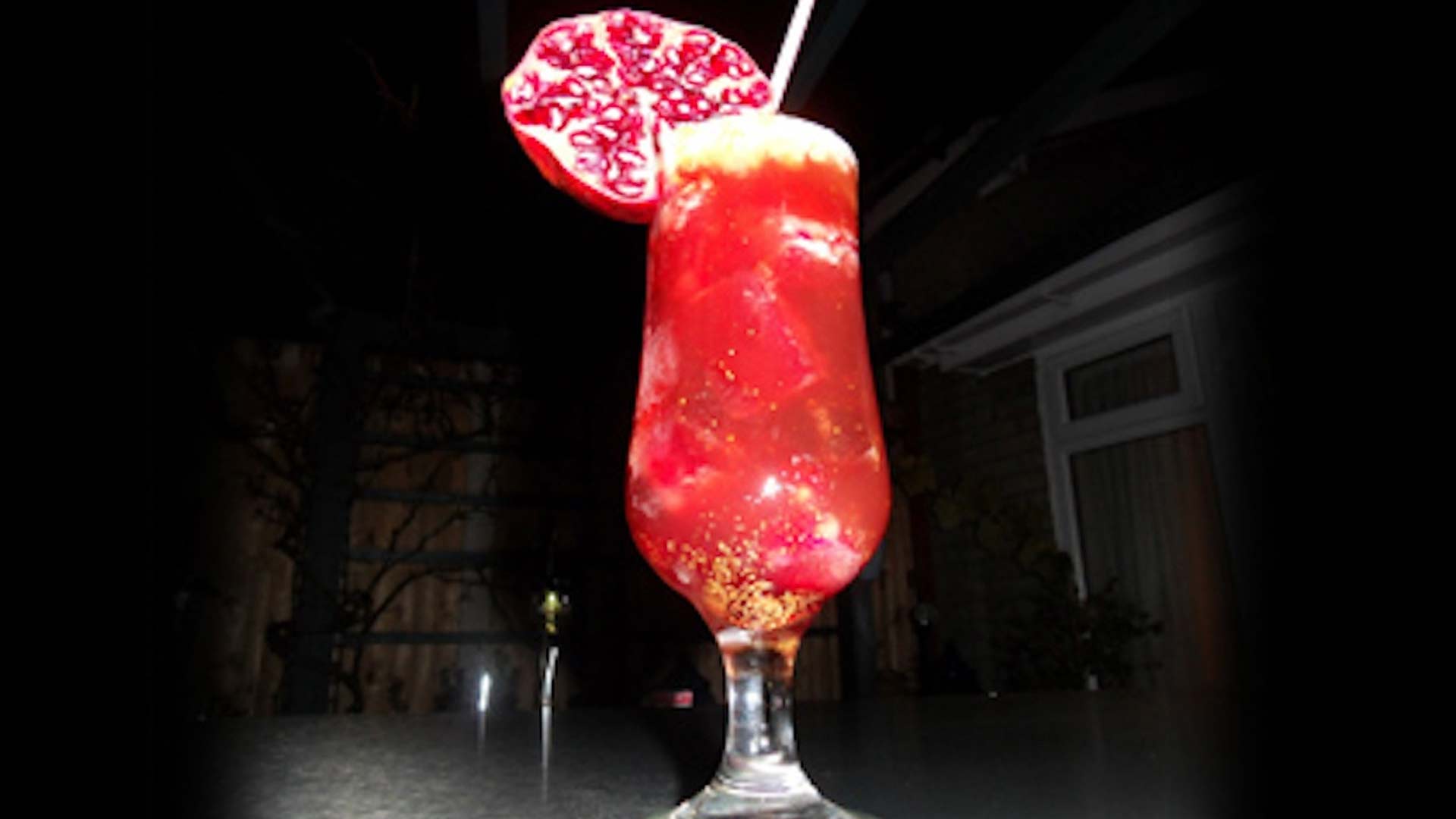 Bonfire Night Cocktail
Bonfire night cocktail – "Firework Inferno"
BBBBBBBBBBBBOOOOOOOOOOOOOOOOOOOOMMMMMMMMMMM!!!!!!!!!!!!!
Bonfires, fireworks, Guy Forks, toffee apples and now cocktails!
Mix & Twist has fused together some explosive ingredients to bring to you the "firework inferno" cocktail. This toffee apple tasting tipple will excite your taste buds and wow your eyes!
Warning:
Please stand 5 metres back once cocktail is made (extra long straw or skills required)
About The Bonfire Night Cocktail
Name: Firework Inferno
Glassware: Hurricane Cocktail Glass
Ingredients:
Apple Vodka: 25 ml

Spiced rum: 25ml

Toffee or caramel syrup: 12.5ml

Pomegranate juice: 50ml

Pineapple juice: 30ml

Pomegranate seed ice cubes: 9

Gold leaf

Sugar Syrup: 5ml

Cinder Toffee: 3g

Bonfire lolly (optional)
Garnish: Pomegranate Wheel and Popping candy and yes…Fireworks!
Ice up the cocktail glass with normal and pomegranate ice cubes. Pour Apple vodka, spiced rum, pomegranate juice and toffee syrup in a mixing glass and small tears of gold leaf then shake with ice.
Pour the shaken ingredients over the iced cocktail glass. Crumble the cinder toffee onto the drink. Then add the pineapple and sugar syrup to a mixing glass and shake vigorously with until frothy (about 12 secs) then pour into glass producing a foamy head.
Add pomegranate wheel and sprinkle the popping candy on top (add optional bonfire lolly for dipping), queue sound effects, light fireworks and serve…stand back!
The Party Scene
Your birthday party is just asking for the addition of one of our mobile cocktail bars. Chat with your friends and dance the night away with your favourite cocktail in hand. With us, everything will be taken care of and you can enjoy the one night that's all about you.
If hands-on events are more to your taste, we offer a great cocktail masterclass option too. Perfect for any big event, our mixology classes allow you to mix, muddle, shake and stir your very own cocktail, and the best bit is getting to taste test them after!
Speak with an Expert Mixologist
Creating the ultimate mobile bar experience for your private party event is just a phone call away.
Our expert mixologists listen to your goals, dreams and help you create the ultimate event.
Take advantage of a no-obligation consultation and click the button below to get started.