Here's The Best Cocktail For Your Zodiac Sign | Mix & Twist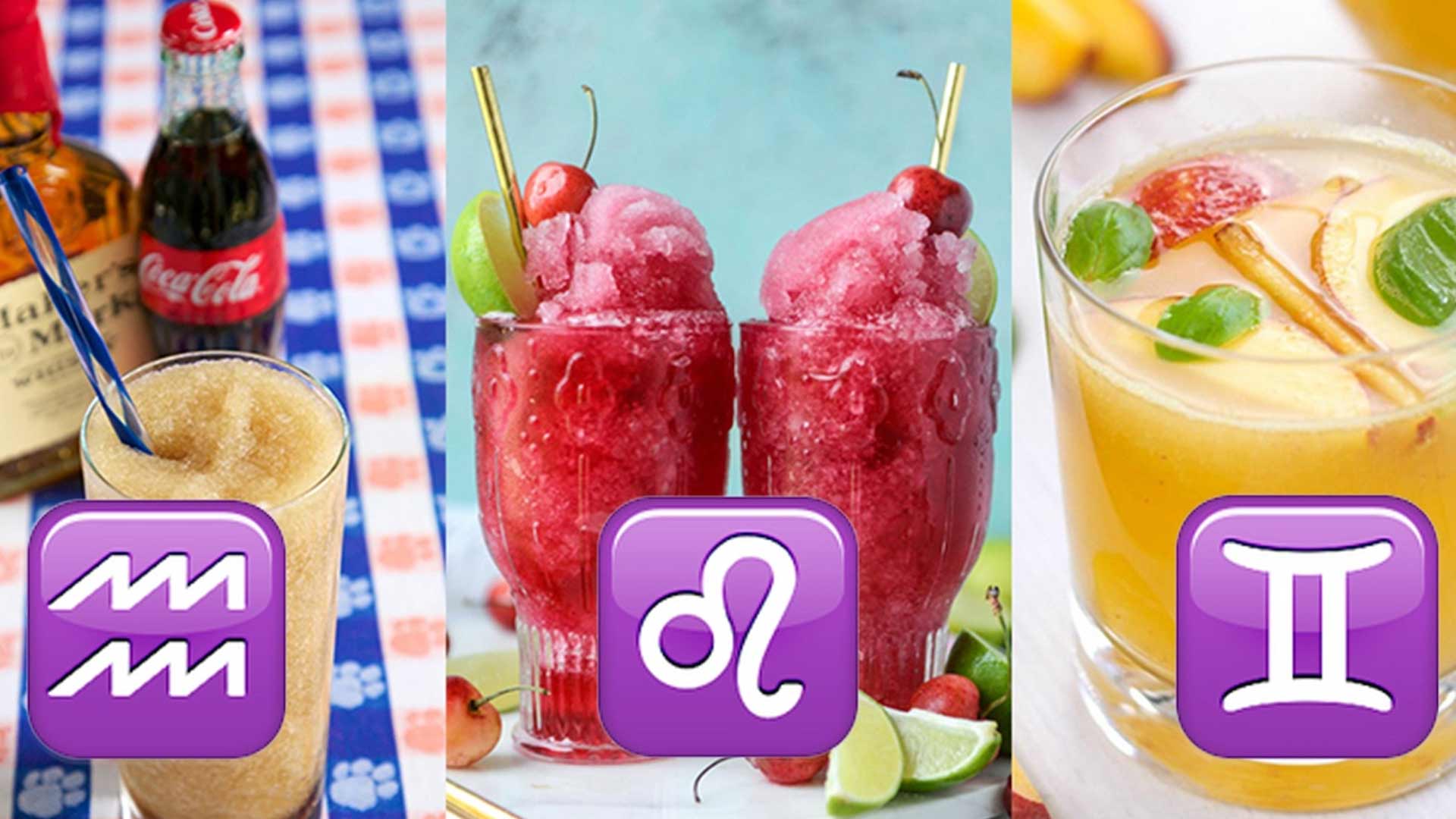 Choosing The Perfect Cocktail
Choosing the perfect cocktail can be tough. We may live in a world full of fancy bars with "mixologists" that whip up beautiful drinks full of edible flowers and colour-changing ice cubes, but that just makes the options even more baffling.
It's not like we're complaining about having such an amazing alcohol selection in this world, but things can get overwhelming. With so much to choose from, why not turn to the stars for the answers? If you regularly check your horoscope for tips on how to face the week, you might as well do the same when it comes to your booze. Here's the perfect cocktail for each and every zodiac sign.
Aries (March 21 – April 19): Bacon Bourbon Cocktail
Nick Evans via macheesmo.com
You love to be the centre of attention and what better way to do so than with a strong-flavoured drink featuring your favourite food? Get the recipe here.
Taurus (April 20 – May 20): Golden Girl Cocktail
Jacki Moseley via abeautifulmess.com
You're a true romantic who loves to surround yourself with beauty, so this ravishing blend of grapefruit juice and Prosecco is your new best friend. Get the recipe here.
Gemini (May 21 – June 20): Peach And Basil White Sangria
Becca Pusey via amuse-your-bouche.com
You contain multitudes, and nowhere is that more obvious than in your alcohol choice. This sangria blends sweet and savoury and has the taste of plain wine with the kick of a cocktail—who could ask for more? Get the recipe here.
Cancer (June 21 – July 22): Orange Clove Hot Toddy
Sommer Collier via aspicyperspective.com
Cancers love the comfy, cosy warmth of spending time with loved ones. This drink embodies toasty nights huddled the bar with its welcoming spices and rich taste. Get the recipe here.
Leo (July 23 – August 22): Frozen Cherry Cosmopolitan
Jessica Merchant via howsweeteats.com
You're bold, proud, and unafraid to stand out, just like this bright and delicious Cosmo. Get the recipe here.
Virgo (August 23 – September 22): Red Wine Berry Spritzer
Aggie Goodman via aggieskitchen.com
You like to keep things by the book, and as close to perfect as possible, which is why fun twist on a trustworthy, predictable classic is perfect for you. This tasty treat provides just enough variety to keep things enjoyable while still sticking to something you can rely on. Get the recipe here.
Libra (September 23 – October 22): Pineapple Citrus Punch
Jacki Moseley via abeautifulmess.com
You're charming and outgoing, so this flirtatious punch is your match made in heaven. Get the recipe here.
Scorpio (October 23 – November 21): Dark 'N Stormy
Jordan Cord via thefitchen.com
You are secretive, insightful, powerful, and sometimes drawn to "dark" moods, so this summer staple serves you perfectly. Get the recipe here.
Sagittarius (November 22 – December 21): Sriracha Bloody Mary
Jacki Moseley via abeautifulmess.com
You're a free spirit who's always open to adventure, so give your taste buds (and spice tolerance) a run for their money with this brave twist on a beloved favourite. Get the recipe here.
Capricorn (December 22 – January 19): Iced Whiskey Coffee
Jessica Merchant via howsweeteats.com
You pride yourself on your dedication to goals and your ability to stick it out through hard work. You'll need a little caffeine to get through all that effort! Get the recipe here.
Aquarius (January 20 – February 18): Frozen Bourbon And Coke
Stephanie Parker via plainchicken.com
You're the life of the party, and it's important to you that everyone around you feels just as comfortable as you do. A classic, reliable standby (in frozen form, natch, to keep you from breaking a sweat) is perfect to sip on as you chat up a room full of people. Get the recipe here.
Pisces (February 19 – March 20): Diamond Ring Jelly Shots
Jacki Moseley via abeautifulmess.com
You pick up on other people's feelings easily, and all that emotional noise can sometimes drag you down. Treat yourself to a lighthearted break with these whimsical jelly shots. Get the recipe here.
Speak with an Expert Mixologist
Creating the ultimate mobile bar experience for your corporate event is just a phone call away. Our expert mixologists listen to your goals, dreams and help you create the ultimate event. Take advantage of a no-obligation consultation and click the button below to get started.
Tailored To Meet Your Needs
Choose one of our bespoke bar hire options and you'll have the freedom to create a truly unique experience for your guests. Our bars can be personalised with your own branding, while there's even the option to tailor your cocktail menu so that it fits with a wider theme.
You'll have a great selection of cocktails to choose from, ranging from the traditional to something a little more out-there.
Hiring a cocktail bar for your next corporate event is also a great way to get people talking and break the ice.
We have a full team of mixologists and flair bartenders on hand to entertain your guests and bring everyone together for a corporate event with a difference.