Why Mobile Bar Hire Is Essential For Your Wedding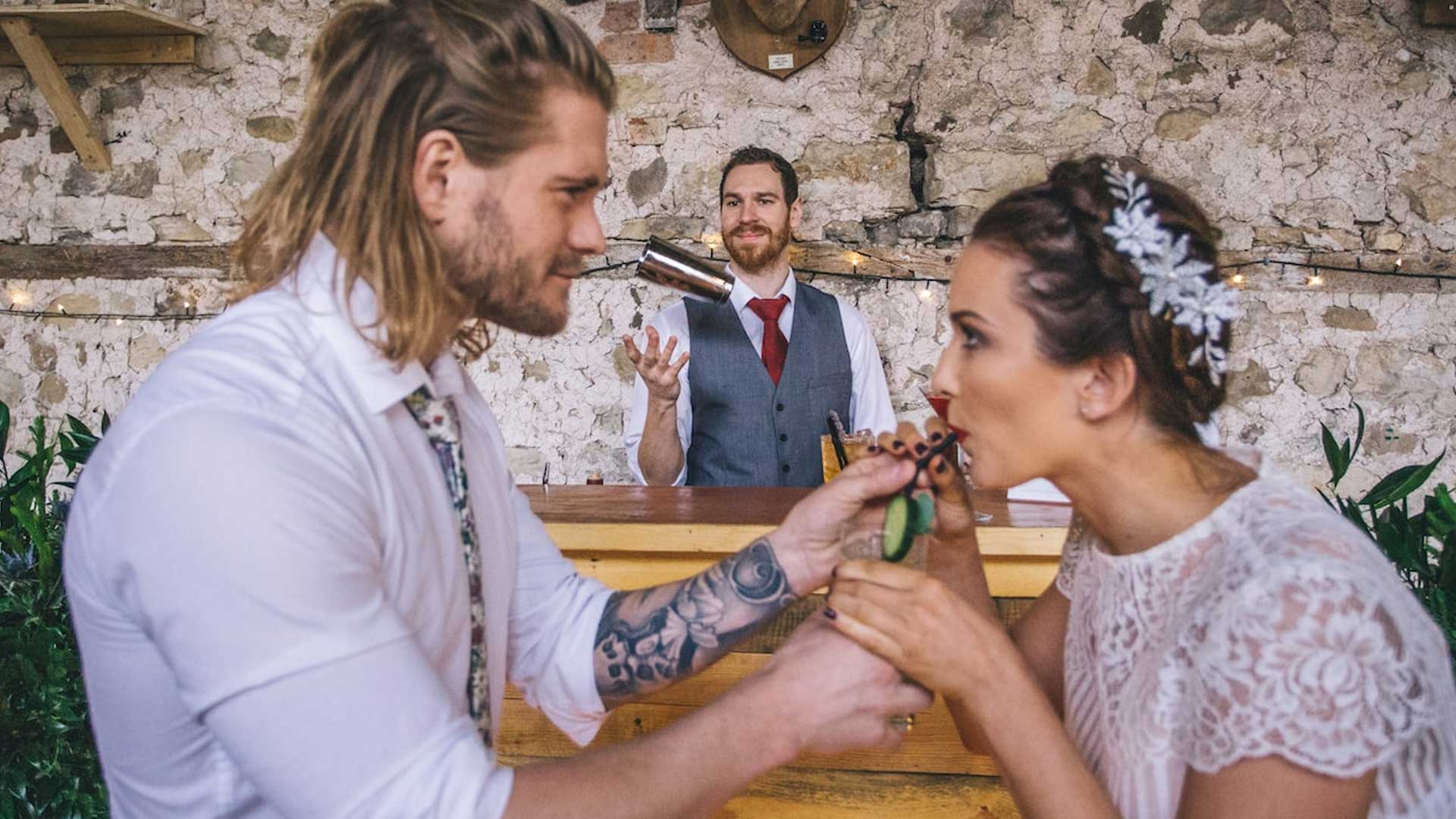 The stunning photography in this blog was taken by Jane Beadnell.
Check our more of her work here and here.
Your wedding bar can literally make the difference between a good wedding and a great wedding.
Think about it –drinks are just par for the course, and part of the whole enjoyment of a wedding.
Everyone lets loose , has fun, and enjoys themselves.
And nothing kills the mood faster than getting to the bar and finding out it's "how much?!" for a pint.
Or sitting through the ceremony dreaming about sipping margaritas with the bride, like the good old days, only to find out the wedding bar doesn't do cocktails.
And the reason is, not all wedding bars are created equal.
Typically if you get married in a Stately Home-type venue they will have their own in-house bar, and the terms and conditions of getting married at the venue usually state that you're not allowed to bring in outside caterers / suppliers .
Because part of how the venue makes their money at a wedding is through all of the drinks that guests purchase over the 10 hour period.
Allowing mobile bars to come in and serve all of the drinks would be counter-productive for the venue, but their bar might not offer the same variety of drinks that a mobile bar can.
So, reason number one is choice.
If you're a bride and groom whose lifestyle heavily features Old Fashioneds, Mojitos and the rest, then do you really want to miss out on being able to drink your favourites on a day that is all about you and everything you love?
Mobile bar hire can provide all of the drinks that your venue is not able to.
And even if they want to cater for the drinks in-house, a lot of venues allow couples to bring in a mobile cocktail bar if that's a service that the venue doesn't offer – which means more choice for you.

The second reason is
price

.

As an independent bar provider we get to set and choose our own prices and we have a number of packages to suit whatever your wedding budget.

Of if you're having a bar where the guests are paying for their drinks, which means free bar hire for you, our prices are purse and wallet-friendly so your guests can enjoy indulging without breaking the bank.

No £6 pints here!
Add A Splash Of Colour
Our cocktail reception greets guests with a sea of bright, eye-catching cocktails, a step up from the usual glass of fizz.
Everyone will be wowed by the selection available, and if you have a few attendees that don't drink alcohol, we can also mix some mocktails too.
Our cocktail bar will build the atmosphere without you having to lift a finger, the way your wedding should be. With drinks just ready for the taking, no one will be left with an empty glass.
Location is always important when considering your bar choice too.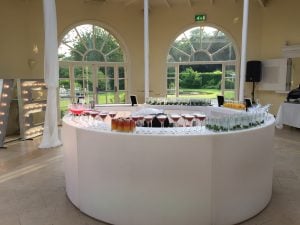 If you're having an outdoor ceremony or a tipi / marquee wedding then you'll need to have a mobile bar on-site to serve your drinks from.
A mobile cocktail bar loaded with multi-coloured concoctions is just as much of an inviting sight outside as it is in.
However, if you're getting married in an indoor venue but the bar isn't exactly living up to expectations – aesthetic is very important when you've spent so much money on your special day – then having a bar with more of a wow-factor is something our mobile bar hire service can definitely provide.
Circular bars, for example, are very stylish as well as allowing more guests to get served at once – win win !
Professionalism is a massive factor when it comes to your wedding.
You need to know that your day is in safe hands, whatever the supplier.
With years of experience between the whole team, our mobile bar hire staff know exactly how to provide you with a wedding day you will never forget.
Rather than just using event staff to man our bars we bring you experienced, professional and approachable bartenders who always have a few tricks up their sleeve.
Mobile bar hire offers you choice, flexibility, entertainment, and professionalism in one perfectly presented package.
To enquire about how we could mix and twist up a storm at your wedding, get in touch.
There's so many factors to consider when planning a wedding – cakes, florists, room stylists, caterers, bands, venues, stationary , entertainment, photographers and the list goes on!
So to help reduce any stress you may be feeling, we have put together a super helpful wedding suppliers list of people we trust and have worked with, also a really handy bride guide full of useful little tips to help keep you on top of things!
Speak with an Expert Mixologist
Creating the ultimate mobile bar experience for your wedding event is just a phone call away.
Our expert mixologists listen to your goals, dreams and help you create the ultimate event.
Take advantage of a no-obligation consultation and click the button below to get started.