Mocktail Alternatives for Dry January
Dry January? Try These Non-Alcoholic Alternatives - Introduction
With the New Year upon us, we're all looking for ways to change our lives for the better.
For many, this means getting active or giving up chocolates.
But for more than ever before, this means signing up to Dry January.
If you've never heard of Dry January (seriously where have you been?), it's essentially a month free from alcohol.
A lot of people treat it as a post- Christmas purge, but with the increasing number of alcoholic alternatives, for many it's the start of a complete lifestyle change.
The charitable founders of Dry January, Alcohol Change UK state that of those who partake in the month-long abstinence, 88% found that they saved money, and that a further 67% of participants claimed to have more energy than normal.
With figures such as these, it's not hard to see why so many are opting to sign up to Dry January.
In this blog post, we look at the non-alcoholic drink trends that are proving popular with those making the commitment and going alcohol free .
Dry January? Try These Non-Alcoholic Alternatives - Mocktails
Mocktails, the non-alcoholic cocktail, is an extremely popular option for those ditching drink for the first month of the new year.
The increasing demand for non-alcoholic alternatives means that there are now a wide range of available options.
Some mocktails take on entirely new flavour combinations, but those wanting to replicate their go-to mojito or pina colada are sure to find a suitable mocktail replacement.
The majority of bars and clubs now have a space on the drinks menu dedicated to these fruit based options, and coming in at around half the price of their alcoholic counterparts, it's easy to see why they are proving a popular alternative.
It's also easy to make your own mocktails at home!
Simply adapt your favourite cocktail recipe, such as a Raspberry Fizz, accordingly (in other words take out the alcohol!).
For instance, why not try swapping gin for the non-alcoholic alternative, Seedlip?
Dry January? Try These Non-Alcoholic Alternatives - Health Drinks
For those ditching their usual tipple for health related reasons, healthy drinks prove a great substitute.
Probiotic yogurt drinks and fruit smoothies consumption has soared in recent years, as more of the population become clued-up on their natural health benefits.
With their popularity growing, many are opting for smoothies and yoghurt based drinks over their usual alcoholic choice.
A couple of our favourite smoothies include: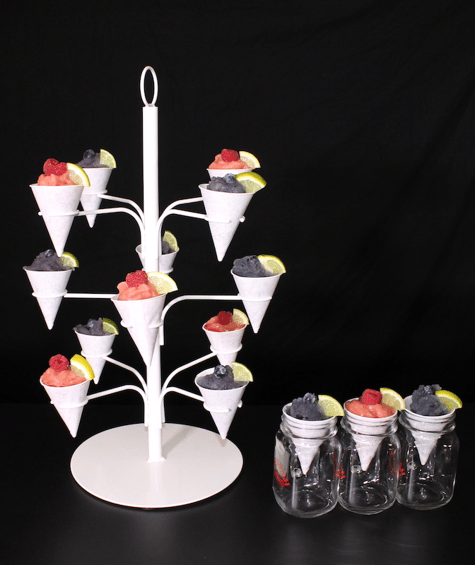 Raspberry Crush

For this you will need:
5 Raspberries
4 Blackberries
70ml Cranberry Juice
Juice from Half a Lemon Squeezed
70ml Mango Juice
15ml Honey
Method:
Fill your blender 3/4 full with ice and all the ingredients and blend until it becomes a thick creamy consistency.
Pour into your glass of choice, then top with half a glass of ice and enjoy!
Berry Blast
For this you will need:
A Handful of Blueberries
4 Kiwi Chunks
50ml Orange Juice
15ml Blue Curacao Syrup
Juice from Half a Lemon Squeezed
Method:
Fill your blender 3/4 full with ice and all the ingredients and blend until it becomes a thick creamy consistency.
Pour into your glass of choice, then top with half a glass of ice and enjoy!
More healthy options include:
'Shots' have become especially prominent in the healthy drink industry in recent times, with most supermarkets now stocking these products in their stores.
Ginger shots, turmeric shots, and matcha shots are among just a few of the options readily available.
Just like a regular shot, they pack a punch.
The difference is: this one's good for you (probably).
Manuka honey has taken off as a result of the health benefits it possesses.
This pricy condiment has now found its way into mocktails and smoothies, offering the same high-end price tag as an alcoholic beverage for when you want to treat yourself, while keeping sober.
Kefir is a yoghurt drink on the rise.
With its proven nutritional and digestive benefits, those steering clear of alcohol this January are reaching for this beverage.
Available in supermarkets, this is an easily attainable alcohol alternative which has recently gained popularity.
With some evidence suggesting that it can even aid in weight loss, many Dry January partakers are giving it a go.
Dry January? Try These Non-Alcoholic Alternatives - Non-Alcoholic Alcohol?
Just because you've opted to consume no alcohol for a month doesn't necessarily mean that you can't enjoy the flavours of your favourite alcohol.
Whether your go-to tipple is beer, wine, cider or gin, there is a non-alcoholic version on the market to fulfil your cravings.
For example, many bars, restaurants and shops now offer non-alcoholic varieties of these popular drinks, such as the gin alternative Seedlip, so that you can carry on enjoying the tastes of alcohol without the lasting effects.From the drinks we've mentioned in this list, it's clear to see that just because you're taking part in Dry January doesn't mean you have miss out on exciting beverages!
At Mix & Twist, we celebrate creative drinks—alcoholic or otherwise.
If you would like information regarding our mobile mocktail bar, or any of the other services we have available, do not hesitate to get in touch!
The Party Scene
Having our mobile bar service at your birthday is equivalent to bringing the party to wherever you need it to be. More sophisticated than a standard bar for hire and more flexible than using a venue's own bar, Mix & Twist allows you to relax and enjoy the party while we serve up your favourite cocktails.
If you're interested in something more hands-on, we also offer cocktail masterclasses. Our mixology classes are a great option for large groups or events. Entertain your friends and family while making a luscious beverage to enjoy afterwards!
Speak with an Expert Mixologist
Creating the ultimate mobile bar experience for your corporate, private party or wedding event is just a phone call away.
Our expert mixologists listen to your goals, dreams and help you create the ultimate event.
Take advantage of a no-obligation consultation and click the button below to get started.